Whitening Pen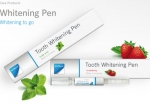 SKU: 3W023
Whitening Pen is the easiest way to brighten your teeth. It can be the favorable first step tooth whitening or also a good follow-up for a professional teeth whitening to maintain the result as long as possible.
Whitening Pen is convenient and easy to apply everywhere.
Special formulation with Carbamide Peroxide and Sodium Perborate.
In 2 flavours: fresh mint and strawberry.
Easy to use. As first step into tooth whitening. Ideal also as touch up for POWER/LIGHT WHITENING.
Tip: To keep your white smile even longer and to protect your teeth, we recommend using Whitening Toothpaste with 30% Xylitol. The toothpaste is for gentle daily care.