RESPAL NF HEAT CURING ACRYLIC RESIN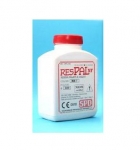 SKU: 2E036
RESPAL NF HEAT CURING ACRYLIC RESIN
500g
HEAT CURING ACRYLIC RESIN SUITABLE FOR COMPLETE, PARTIAL AND COMBINED REMOVABLE PROSTHESES AND FOR DENTURE BASE RECONSTRUCTION
RESPAL NF is a heat curing resin, consisting of a mixture of methacrylate copolymers and a liquid with a cross-linked effect.
The polymer, free of cadmium, contains a crosslinking agent that greatly increases the dimensional stability and resistance to bending, impact and abrasions.
The stability of the color is guaranteed over time. RESPAL NF guarantees results and is simple to use.
RESPAL NF is available in a wide range of colors, selected to give the item produced a natural aesthetics.
Brand: SPD
Country: Italy